The Limits of Human Power
For average humans, why bicycle technology fails
Common Upright Bike Speed and Headwind
assumes 27 speed modified for extra low gearing* Speed km/h (mph)
Wind Speed in km/h (mph)






0
10 (6.2)
20 (12.4)
30 (18.6)
40 (25.0)
50 (31.1)


Watts
-
20W


7.4 (4.6)
4.8 (2.9)
Unfit human
30W


9.8 (6.1)
6.5 (4.0)
-
40W


11.7 (7.3)
7.9 (4.9)
5.1 (3.2)


-
50W


13.2 (8.2)
9.1 (5.7)
6.0 (3.7)
Average fit human
75W


16.3 (10.1)
11.6 (7.2)
8.0 (5.0)
5.5 (3.4)
-
100W


18.7 (11.6)
13.7 (8.3)
9.8 (6.1)
6 .9 (4.3)
4.9 (3.0)


-
150W


22.3 (13.9)
17.0 (10.6)
12.6 (7.8)
9.3 (5.8)
6.8 (4.2)
5.1 (3.2)
Very fit human
200W


25.2 (15.7)
19.7 (12.2)
15.0 (9.3)
11.3 (7.0)
8.5 (5.3)
6.4 (4.0)
-
250W


27.5 (17.1)
21.9 (13.6)
17.0 (10.6)
13.1 (8.1)
10.0 (6.2)
7.7 (4.8)


-
350W


31.4 (19.5)
25.6 (15.9)
20.5 (12.7)
16.2 (10.1)
12.8 (8.0)
10.0 (6.2)
Athlete
400W


33.1 (20.6)
27.2 (16.9)
22.0 (13.7)
17.6 (10.9)
14.0 (8.7)
11.1 (6.9)
-
450W


34.6 (21.5)
28.6 (17.8)
23.4 (14.5)
18.9 (11.7)
15.1 (9.4)
12.1 (7.5)
Recumbent Speed and Headwind
With low gearing* Speed km/h (mph)
Wind Speed in km/h (mph)






0
10 (6.2)
20 (12.4)
30 (18.6)
40 (25.0)
50 (31.1)


Watts
-
20W


8.0 (5.0)
5.7 (3.5)
Unfit human
30W


10.7 (6.6)
7.7 (4.8)
5.2 (3.2)
-
40W


13.0 (8.1)
9.4 (5.8)
6.6 (4.1)
4.5 (2.8)


-
50W


14.2 (8.8)
10.2 (6.3)
7.4 (4.6)
5.2 (3.2)
Average fit human
75W


17.8 (11.1)
13.5 (8.4)
9.9 (6.1)
7.2 (4.6)
5.5 (3.4)
-
100W


20.7 (12.9)
15.9 (9.9)
12.0 (7.4)
8.9 (5.5)
6.9 (4.3)
5.2 (3.2)


-
150W


25.0 (15.5)
19.9 (12.4)
15.5 (9.6)
11.9 (7.4)
9.1 (5.7)
7.0 (4.3)
Very fit human
200W


28.4 (17.6)
23.0 (14.3)
18.3 (11.4)
14.4 (9.0)
11.3 (7.0)
8.9 (5.5)
-
250W


31.2 (19.4)
25.6 (15.9)
20.8 (12.9)
16.6 (10.3)
13.2 (8.2)
10.5 (6.5)


-
350W


35.7 (22.2)
30.0 (18.6)
24.9 (15.5)
20.4 (12.7)
16.6 (10.3)
13.5 (8.4)
Athlete
400W


37.7 (23.4)
31.8 (19.8)
26.6 (16.5)
22.0 (13.7)
18.1 (11.2)
14.9 (9.3)
-
450W


39.4 (24.5)
33.6 (20.9)
28.3 (17.6)
23.6 (14.7)
19.5 (12.1)
16.1 (10.0)
*Above assumes rider weight 85 kg, bike 18 kg, at sea level, cadence 60 rpm, and 0% slope.
Cadence could be faster but 60 is closer to average human, so athletes will spin faster and go faster.
Bicycles have a minimum speed limit below which they are not geared to go and would tend to fall over if they were.
Trikes have no lower speed limit, but standard gearing is designed for bicycles.
Assuming a 24-tooth chainring and 34-tooth rear sprocket, 4.4 km/h (2.6 mph) is the lower speed limit at 60 rpm.
Touring Bike Speed and Slope
168 kg or 370 lb total weight. Speed km/h (mph)
Slope, % Grade






0
1%
2%
3%
4%
5%
6%
7%
8%
9%
10%
12%
15%
20%


Watts
-
20W


5.4 (3.4)
Unfit human
30W


7.7 (4.8)
-
40W


9.7 (6.0)
4.7 (2.9)


-
50W


11.6 (7.2)
6.4 (3.1)
Average fit human
75W


14.2 (8.8)
9.0 (5.6)
6.2 (3.9)
4.6 (2.9)
-
100W


16.5 (10.3)
11.4 (7.1)
8.1 (5.0)
6.1 (3.4)
4.9 (3.0)




-
150W


20.2 (12.6)
15.2 (9.4)
11.5 (7.1)
8.9 (5.5)
7.2 (4.5)
6.0 (3.7)
5.2 (3.2)
4.5 (2.8)
Very fit human
200W


23.0 (14.3)
18.3 (11.4)
14.4 (8.9)
11.5 (7.1)
9.5 (5.9)
8.0 (5.0)
6.9 (4.3)
6.0 (3.7)
5.4 (3.4)
4.8 (3.0)
-
250W


25.3 (15.7)
20.9 (13.0)
17.0 (10.6)
13.9 (8.6)
11.6 (7.2)
9.8 (6.1)
8.5 (5.3)
7.5 (4.7)
6.7 (4.2)
6.0 (3.7)
5.5 (3.4)
4.6 (2.9)


-
350W


29.1 (18.1)
25.0 (15.5)
21.3 (13.2)
18.1 (11.2)
15.4 (9.6)
13.3 (8.3)
11.6 (7.2)
10.3 (6.4)
9.2 (57)
8.3 (5.2)
7.6 (4.7)
6.5 (4.0)
5.3 (3.3)
Athlete
400W


30.7 (19.1)
26.8 (16.7)
23.1 (14.3)
19.9 (12.4)
17.2 (10.7)
15.0 (9.3)
13.1 (8.1)
11.7 (7.3)
10.5 (6.5)
9.5 (5.9)
8.6 (5.3)
7.4 (4.6)
6.0 (3.7)
4.6 (2.9)
-
450W


32.2 (20.0)
28.4 (17.6)
24.8 (15.4)
21.6 (13.4)
18.8 (11.7)
16.5 (10,2)
14.6 (9.1)
13.0 (8.1)
11.7 (7.3)
10.6 (6.6)
9.7 (6.0)
8.3 (5.2)
6.7 (4.2)
5.2 (3.2)
Those who can only sustain a 30 watt output can only develop strength by riding on level ground when the wind isn't blowing to avoid being over stressed.
At 50 watts, a 1% slope and a 15 km/h (9.3 mph) headwind is overwhelming.
At 75 watts a 2% slope and a 23 km/h (14.3 mph) headwind is a deal breaker.
At 100 watts, a 3% slope and a 21 km/h (13 mph) headwind, or a 4% slope and a 12 km/h (7.5 mph) headwind, is too much.
Interstate highways have up to 6% or 7% grades, while state highways have up to 12% grades and rural roads can be steeper. Slopes and winds are commonly encountered. Ergo, for the average human, many of whom are not fit, bicycle technology alone is impractical if wind or even moderate slopes are encountered, but with a moderate 250-350 watt electric assist motor, e-bike technology is practical. Human-power with e-motor assist works for the average person, while human-only power doesn't work for most except for recreational use over short distances. Big difference.
For each one degree increase in slope, power needed to maintain speed increases by about one human power whatever that may be (20W to 450W). For a 45 watt human, who goes 7 mph on flat ground if paved, even a small increase in slope quickly becomes a deal breaker. A 1% slope takes twice the power to maintain 7 mph, 2% takes three times more, and 3% takes four times the power and so on. While 350 watts is far more than enough on mostly flat ground, it is not enough to get a 45 watt human up more than about a 7% slope assuming they are not overweight. For the obese, a 500 watt, or even 750 watt motor may be needed on steep slopes, and a loaded cargo cycle might reasonably need 1500 watts to climb steep hills. A 10% grade takes over an order of magnitude more power, about 11 times more power than a 45 watt human provides to maintain speed (for a given power, down shifting to lowest gear and going slower is alternative to increasing power to maintain speed, but to climb a 10% grade using 45 watts would require going 0.7 mph (1.1 km/h), far slower than non-custom bicycle gearing would allow, and only a trike could go that slow without falling over), so hills, if present, and weight largely define needed power assuming moderate speeds. At 25 mph, however, 80% of power goes to stirring the air (on upright cycle). To go 50 mph, an 8,000 watt ultra-light e-motorcycle (12x more power to go 2x faster) would be needed for stirring air (and going a bit faster).
How much power are humans good for? Recreational bicycle riding groups organize group rides. Because ability varies from expert to beginner, rides are graded by difficulty as measured by pace or average speed. Rides go from A to D (fast to slow). The minimum amount of human-power assumed can be estimated:
Recreational Bicycle Ride Classification

| | | |
| --- | --- | --- |
| Class | Pace km/h (mph) | Watts needed to keep up |
| A | 32+ km/h (20+ mph) | 300+ |
| B+ | 29-32 (18-20) | 245+ |
| B | 26-29 (16-18) | 190+ |
| C+ | 23-26 (14-16) | 140+ |
| C | 19-23 (12-14) | 95+ |
| D | 13-19 (8-12) | 45-95 watts ('beginner') |
About 1% of Americans ride bicycles, and the average American is not very fit. The average American would fall in the 'F' class if there was one (and there isn't because 45+ watts is minimal). Those who participate in recreational bicycle rides, including 'beginners', are not average. At best, beginners are assumed to be 'average fit' humans. In one European city (Amsterdam), up to 40% of adults ride bikes and fit Europeans average about 15 km/h (9 mph) or 60 watts (Amsterdam is flat so lower than 60 watt humans can cycle). A fast walking speed requires about 60 watts, but most consumers cannot sustain a fast walk for long. Average humans in industrialized consumer societies, oversold on movement saving devices, could, for the price of an effort, reasonably aspire to become 60 watt humans.
About 70% of Americans are overweight. About 36% of American adults are clinically obese, and 18% of American children are obese with more on the way. This is a serious issue, killing and doing injury to vastly more people than violence (war and criminal violence combined) does, and bicycle technology alone is not an appropriate solution for those far-too-many who need to increase their activity level to achieve 50 watts of sustained (an hour or more) energy output. E-bikes (including e-trikes...) are appropriate if the assist power is moderate. The idea is not to build a 3,000 watt e-bike having vastly more power than Lance Armstrong (it has been done—actually 8,000+ watts has been done and up to 22,000 watt e-bike motors are offered for sale so probably someone has made one and is trying to figure out how to make it more powerful). The idea should not be to allow those who can twist a throttle to leave all human-power vehicles in their dust as they laugh maniacally while speeding past (while not pedaling).
Such alleged need-for-speed thinking is quintessentially old school and remarkably prevalent. Perhaps some rethinking is in order. Perhaps more is not better. Faster may be funner up to the point terror sets in, but then many get used to it, fear subsides, and most will want to go faster. However, speed kills, maims, and comes at a high cost to humans and their planet. The "if it feels good, do it" is a faulty logic. The question may not be, "how do I get more?", but "how much is enough?" Enough food? Enough energy? Enough speed? Enough exercise/activity? All good things in moderation.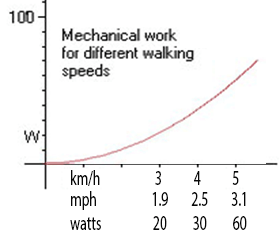 If bicycles and e-bikes are to coexist, we need to consider viewing electric motor assist as a means of making bicycle technology practical/usable for the vast numbers of people who most need to increase their activity level, which involves doing something other than sitting behind the wheel of a car. With electric assist, the formerly sedentary can go places by adding such pedal power as they in all due moderation can. Walking is excellent (averages about 30 - 50 watts), as are bicycles that go two or three times faster and further at walking power provided there are no steep slopes or headwind. An all too common 20 watt person, if out and about walking or on an e-trike, will over time become a 30 watt person, then a 40 watt person, and some will become 100 watt or above people. May health be upon them.
"Use it or loose it" is a truism, but the flip side is "use it and gain it." They who become more active are more likely to cease to be overweight and become healthier, thus saving billions of dollars in health care costs. Less than 1% of Americans could sustain 350 watts of output or greater. For a few (those who can output at least 150 watts for an hour or more), human-powered vehicles are a good alternative to a second (or third....) car. For the rest, think e-bikes and e-trikes as Car2 alternatives that provide assist in proportion to the amount of human-power provided (pedelec design). A widely available pedelec motor is Bionx. A newer option are the Falco eMotors.
Being active can be minimally defined as taking 10,000 steps a day, which comes to walking four to five miles total using 20 to 50 watts which takes about two hours altogether (the average U.S. adult walks about 5,100 steps daily, but Amish 16,000 steps, while Australians, Belgians, Swiss....adults average about 9,600). For going places a bike or trike offers the equivalent activity level to walking while going further in less time. We should aim for two hours of walking or biking or other exercise totaled each day, which over a 16 hour day means moving 8 minutes per hour, which is minimal "using it" to avoid "loosing it". Human health and longevity depend on moving occasionally. Assisted bicycle technology will help 20 watt people become more active—to live long and prosper. Q.E.D.
Available human-power changes over time, of course: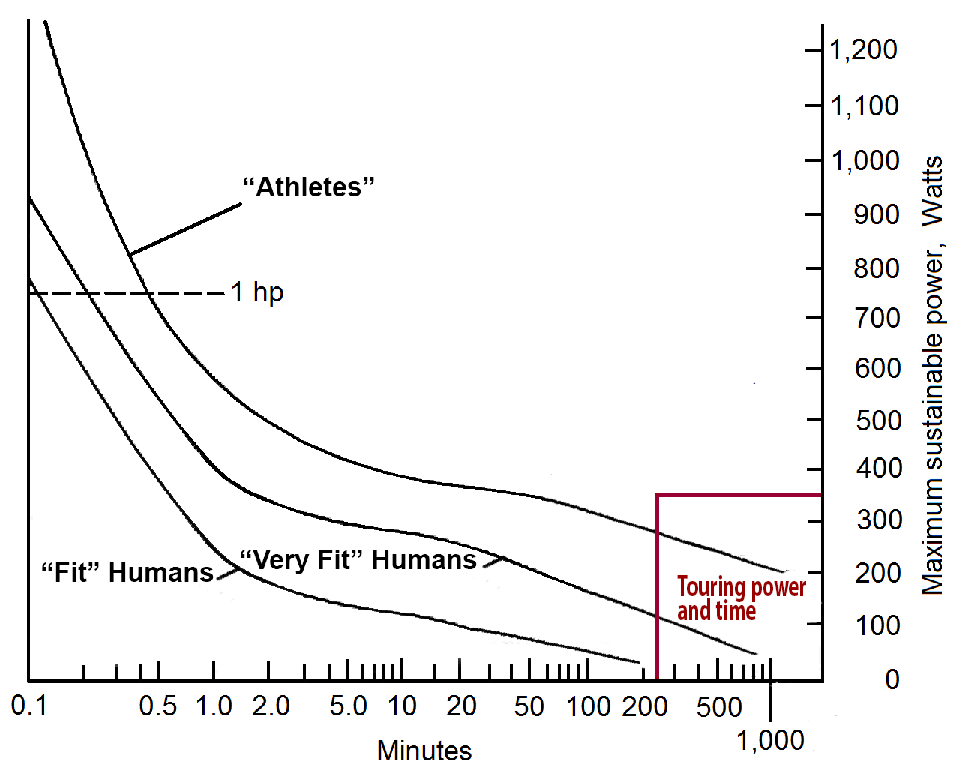 Data from http://hembrow.eu/personal/kreuzotter/espeed.htm, and http://ebikes.ca/simulator/ and CDC.
Homicides in US about 16K/year (11K by guns), Iraq war casualties (US troops), was about 500/year. Less than half the number killed by cars (37K) in USA each year.

While I could tell where to buy a 22,000W e-bike motor, I won't, so don't ask.
Optimal cadence varies with human power output. Unfit: 40 - 60 RPM, Average fit: 50 - 70 RPM, Very fit: 60 - 80 RPM, Athletes: 80 - 100+ RPM, so performance of the unfit will be less than indicated above as most cannot/will not sustain a 60 RPM cadence.
For healthy adults: < 3,000 steps/day = 'inactive'; < 5,000 steps/day = 'sedentary'; 5,000-7,499 steps/day = 'low active'; 7,500-9,999 steps/day = 'somewhat active'; 10,000-12,499 steps/day = 'active'; and 12,500+ steps/day = 'very active'.

The amount of energy required per person to go the distance for transport varies.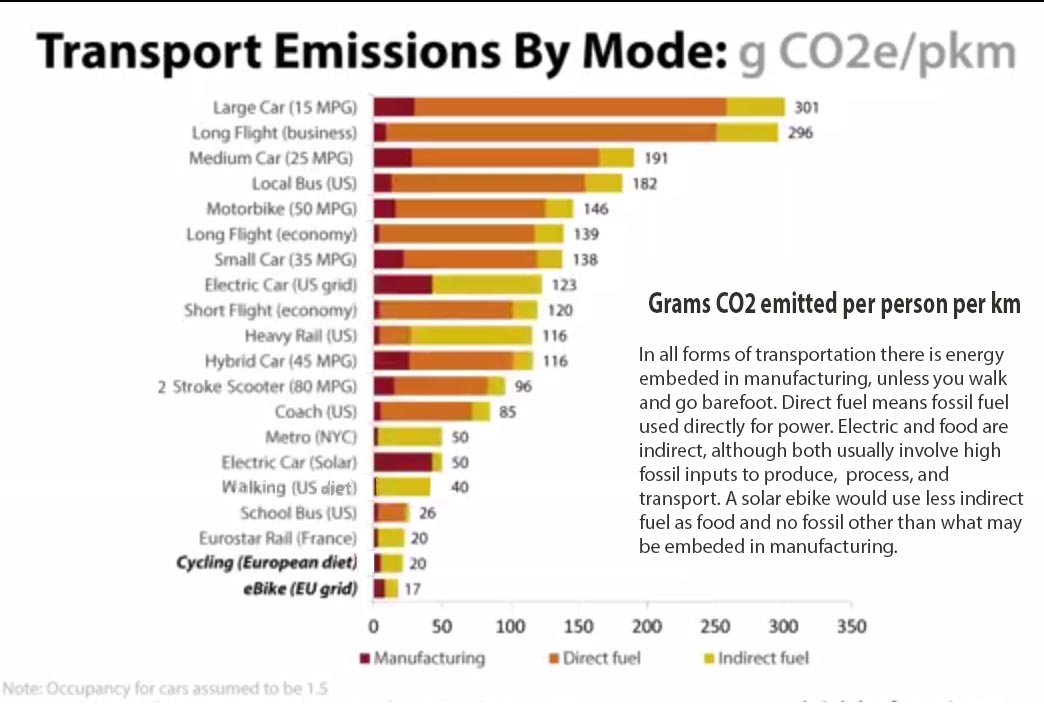 So, how much power can reasonably be expected from humans? Given that most of those living in the industrial world of labor (movement) saving devices are not minimally active and so have lost functionality, those who, raising from bed or sofa, manage to walk to and from their car and bathroom, are dependent on technology to get around. Any discussion of human power for transport needs to assume a minimum level as measured in time and power (watts). Minimum is about 2 hours a day of movement at 20-30 watts of effort. If minimum activity level is met by walking, a person can walk 4 miles (6.4 km) a day by walking 8 minutes per hour when not asleep. If biking for 2 hours, a minimally active person would go 11 miles (17 km) per day or 2.7 times further on the flats with no wind for the same effort.
A person who has achieved a minimum activity level can occasionally, a few times a year, be able to achieve a peak performance about 3 times what they can achieve on a daily basis, so if walking 4 miles a day is sustainable, walking 12 miles on occasions is possible and biking 30 miles would not be impossible. Everyone can and occasionally should "go for the gold" and see what their personal limits are. Many who think of themselves as "fit" are not as less than two hours a day are spent actually moving.
Between minimum and peak comes maximum sustainable output that can be expected of a human who is motivated to be active. Hiking or traveling far by bike involves being motivated to go places. What, then, can reasonably be expected from the motivated human? Maximum activity level is between minimum and peak, so about two times minimum. Cycling in mostly flat areas could occasionally be done by an average 30 watt human with a range of about 21 miles (34 km) if they could sustain output for 4 to 5 hours. An average fit person could hope to go about 37 miles (60 km) by pedaling 4 hours, while a 'very fit' human could go 60 miles (97 km) at 15 mph (25 km/h). The unfit and average fit could go 50 miles a day in 5 hours with a little help from an electric assist motor and with pedelec assist they will use a cycle more often, go further, and get more exercise especially if there is a good cycle infrastructure.
To estimate an individual's sustainable human power level, have them ride a common upright bicycle for an hour at a sustainable speed and note average speed on mostly flat terrain with no headwind. Those few who are "off the chart" may consider themselves very fit. To tour by cycle requires about 5 hours of pedaling a day. Walking about 12 miles (19 km) without a backpack on may take 5 hours at about 40W, but riding a bike under human power alone takes more power, is more like running for 5 hours. Thus 150W human power is minimal, and 200W+ of e-assist is needed by most. Someone who could sustain 150W of human power for 5 hours could output 225W for an hour, meaning only the very few on the high end of "very fit" are likely to be able to tour under human power only without e-assist. An athlete running an 8 minute mile was measured at a power output of 280W, fueled by the equivalent of a slice of bread per mile. Average humans in industrialized societies who cannot sustain 30 watts output for an hour complain bitterly that their 250W e-bike doesn't have enough power. Americans typically complain that their 750W e-bikes (the legal ones) aren't fast enough, and "off-road" versions with 8,000 watts on tap at the twist of a throttle are being oversold.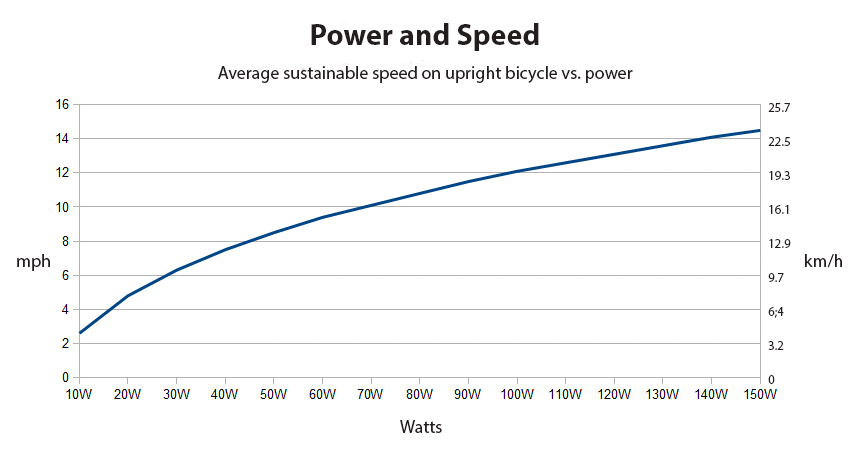 An electric assist cycle may need to provide 200W to 1500W of power depending on whether needed assist is minimal or total, load is light or heavy (cargo e-bikes), and hills few and gradual, or many and steep. Battery system could range from 8Ah to 80Ah, and if solar powered, panels needed could range from 100W to 800W nominal.