Decision Path Leading to Buying an E-Bike

(Which e-bike or conversion kit to buy is a non-trivial decision)
SolTech Designs is about designing solutions that enable people to thrive—designs are offered as gifts. It is also about independent product testing. Designs often involve putting components together (designs created by others) in ways that create new functionality. So I have a personal interest in testing products to source the best building blocks to build with. What I learn, I share for free. The testing involves buying products as nothing is given to me, as any such "giving" could have a biased motive to influence my judgment. I'd rather not be tainted, so I save my money and buy what I want to test. I have not tested a BionX system, but I'm saving up.
I could claim to be an informed buyer. With respect to bikes, I was once active in the International Human Powered Vehicle Association and I designed/built bikes. I've been part of the online e-bike communities Power-assist and E-motor-assist, reading their daily digests, since 2006, and as Endless-sphere is now the happening place, I joined it too. I've been reading and thinking e-bikes for years, hence my claim to be informed. Less informed buyers may consider what I have to offer, then question it; question everything everyone claims, and find out for themselves what is what.
Before buying an e-bike or e-trike, think about:

1. E-bikes with "enough power" vs non-assisted human power and over-powered transportation options.
Transportation is a fundamental human need. Going 10 mph over the speed limit is not. In cityscapes, suburbs, and in between cities, land use planning involves making life for cars and trucks as well-oiled as possible. There are vast expanses where bicycle transportation infrastructure is non-existent or an after-thought (except in some parts of Europe). Walking may not be fast enough or get people far enough, but just saying "No!" to high-power vehicle dependency is possible.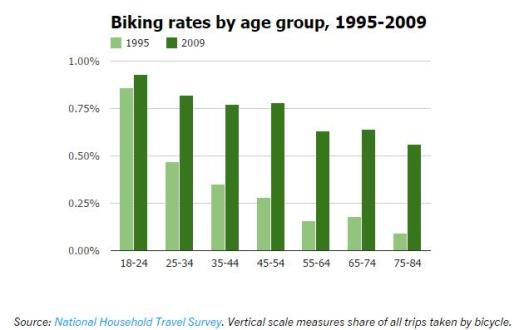 Walking is alternative but may not get people as far or as fast as need be. Bicycles are alternative to cars and walking. Most people are not fit enough, however, to ride bicycles other than for occasional recreation. Less than 1% of the time do American adults get where they need to go by bicycle. While more people are riding bikes for their own benefit or the planet's, most humans are too low-power to make bicycles go fast enough (10mph to 15mph) or far enough (95% of trips in USA are under 30 miles and 15% of trips by car are under 0.5 miles even though such distances could be walked or easily biked). If a lower energy future (where gasoline is $99/gal and most cars are lawn ornaments) seems terrifying, think e-cycles and you may end up looking forward to the future. Many people might still have a car and be able to use them 5% of the time. Needs, as distinct from wants, could still be met, and such could be "the best of all posible worlds."
Most people could really go places by e-pedal-assisted bike if they would. While e-motors could make grandma e-superhuman, legal e-bikes can enable most grandmas, et al., to get where they need to go, most of the time, fast enough, and so e-bike tech merits serious consideration. All adults will find themselves becoming less able over time. Even Tour de France competitors who want to keep on riding will at some point have to consider going e-bike.
2. Premium vs Marginal
There is a vast sea, a rising tide of cheap e-bikes, of $500 and up Wally World offerings calling upon all good consumers to buy one (or more). For those who need to try riding an e-bike for some time to know if they would actually ride one, then buy cheap, ride for a few months before it becomes dysfunctional, and if you can't adapt to riding an e-bike, you'll have saved yourself a lot of money. If you sort of liked the Wally World power-assist, if a good e-bike could meet your needs, then get a real e-bike.
There are many in the $2000 to $3000 range, but they too are disposable e-bikes made to look good (better than the Wally World ones) and hook easily dazzled consumers into parting with even more of their money. These e-bikes may look good and the seller may talk a good talk, but most are made from cheap components sourced from Alibaba.
There are two types of people in the world (apart from those who think there are two types of people and those who don't): those who have learned buying cheap costs more and wastes more, and those who haven't figured it out yet. Those who have learned, often the hard way, think premium. Not the most expensive, but what is well and rightly made that is worth what they will pay for it. Resist the Siren call of "CHEAP!" The warranty, or lack thereof, is a clue.
3. Direct Drive vs Mid-Drive
Mid-drive e-bikes power the chain that drives the wheel. They use the bike's gearing and can go fast and climb steep hills. Those who have both a need for speed and who live in hill country should buy one (with big batteries, aka e-bike cojones, as hill climbing takes a lot of power). If mid-drive it is, consider Ecospeed. Be aware, be very aware that mid-drives, unlike some hub motors, are not silent. They whine incessently. The rider may get used to it, but everyone passed by who is not on a Harley or encased in a car will notice. To fit in with the just-us bicyclists, well, don't expect to. Listen past the noise and hear the resentment.
Everyone else would be better served by a quiet direct drive hub motor. Even those who actually need to climb long steep hills on a daily basis might be better off getting an eZee geared hub motor (along with a set of replacement gears for about $75, since it is not a question of if but when they will wear out—even more true for a mid-drive sy$tem with many parts whose replacement will involve serious money). These make noise but not as much as most mid-drives. There are no premium mid-drive kits (one claiming to be is still vaporware) that a non-DIYer can be reasonably expected to make work. There are only rather jaw-droppingly expensive turn-key mid-drive bikes that should be considered by the DIY impaired. To convert your favorite bike to an e-bike, get a premium direct drive hub motor kit.
There is now (2015) a Bafang mid-drive that can be installed on most bikes by most DIYers. There is one chainring which fatally compromises the human-only power option. If the motor failed, it could be pedaled on the flats, but otherwise, both low and high peed pedaling is limited by the one chainring, especially low speed (I use a 24-30-52). There are many parts to make noise, wear, and replacement/repair would be non-trivial. It could be used for climbing steep hills along with a direct drive for use at all other times, with the mid-drive used only for climbing 5+% hills. On 15+% slopes, direct drives wimp out, so if I wanted to take in the view from atop Mt. Washington weekly, which as a short section of 20% slope, or tour the Himalayas, I'd add a cheap (read non-premium/reliable Bafang mid-drive) for occasional use on extreme slopes. Having a direct drive for regenerative braking going downhill would also be essential as I'd not trust any bicycle brakes to repeatedly survive extreme decents without regen assist.
4. Premium Direct Drive: Falco vs BionX
Now the choices get easy. There are only two premium direct drive kits that merit consideration. There are cheaper systems, some better than others, but if you need an e-bike that you'll almost certainly spend more time riding than working on or waiting to get fixed, then go with a premium system. There are two: one is premium, the other pretends to be:


Features

BionX S350 DX & RX
Cassette
48V Electric Bike Conversion kit

Falco Classic 350
Freewheel
48V Electric Bike Conversion kit

Falco Fusion 350
Freewheel or Cassette
50V Electric Bike Conversion kit

Maximum Assist Speed

20mph USA, 25km/h EU

20mph USA, 25km/h EU, 28mph off-road

20mph USA, 25km/h EU, 28mph off-road

Torque (Hill climbing assist)

40 Newton-meters peak

45 Newton-meters peak

Weight Motor Only

4.7kg (10.4lb)

4.5 kg (9.9 lb)

4.5 kg (9.9 lb)

Weight Total System

7.3 kg (16.1 lb) for Down Tube system
8.6 kg (18.9 lb) for Rear Rack system

8.1 kg (17.3lb) for Down Tube system
Varies for Rear Rack systems

8.1 kg (17.3lb) for Down Tube system.
Varies for Rear Rack systems

Open System

No

Yes

Yes

Motor Type

3-Phase Direct drive generative
hub motor (gearless - brushless)

5-Phase Direct drive generative
hub motor (gearless - brushless)

5-Phase Direct drive generative
hub motor (gearless - brushless)

Motor Power

350 watts/700 watts peak 25A max

350 watts/750 watts peak 35A max

350 watts/750 watts peak 25A max

Battery

48 volt L-ion 8.8Ah / 423Wh

48 volt L-ion 11.6Ah / 556Wh

50 volt L-ion 10Ah / 500Wh

non-OEM Battery Options

none

any 24V to 48V (54V max)

any 24V to 48 (54V max)

Charger

Li-ion BionX charger

Falco or other Li 48V charger

Falco or other Li 48V charger

Off-road Option

No

Yes

Yes

Cardio Monitoring

No

Yes

Yes

Cardio Motor Control

No

No

Yes

Power Training Option

No

No

Yes

Smart Phone Integration

No

No

Yes

Front wheel Option

No

Yes

Yes

Twist throttle Option

No

Yes

No (being reconsidered)

Crank sensor Option

No

Yes

Yes

Regen Braking

4 levels

5 levels

5 levels

Assist levels

4 levels

5 levels

5 levels

Motor programming by user

No

Yes (option)

Yes (option)

Professional install Required

Yes

No

No

In production & available

Yes

Yes

No

DC Output

Yes

No (wireless)

Yes (to charge smart phone)

Console Required?

Yes

No

No (smart phone not required)

Brake switch triggers regen

Yes

No

No

Battery Warranty

1-year

2-years

2-years

Motor Warranty

2-years

5-years

5-years

Replacement Battery

$950

$995

$395+


Cost: Down Tube System

$2099

$1793

Available 2015

Cost: Console replacement

$110 + professional install

$99 (optional)

Use (or not) your own smart phone

Cost: Motor without battery

$790 + professional install

$695

Available 2015

Cost: Rear Rack System

$2199 (one BionX battery option)

Varies with choice of battery

Varies with choice of battery
The Falco Classic series is available in 500W, 1000W, and 1500W flavors. The 500W is the same weight as the 350W but climbs better (and could go faster). A 350W motor is 100 watts more than is legal in most countries and goes fast enough for practical purposes. A 500W motor of the same weight would be better for hill climbing. The "need" for higher than 250 watts is really determined by hill climbing requirements. There are hills so long and so steep that a direct drive hub motor cannot climb them without overheating. The motor would shut down and have to cool before climbing on, assuming there was enough battery power left to do so.
A person who lives in hill country may spend half their time climbing steep hills and the other half going down them. This means that half the time they would benefit from the regenerative braking only a direct drive provides, but the other half of the time they would not climb as efficiently or effectively as if using a geared motor (hub or mid-drive). The optimal solution is to use two motors. A direct drive hub motor for regenerative breaking (and use on the flats and moderate slopes), and a geared hub motor or mid-drive system, perhaps in a pusher trailer, for climbing steep slopes.
Few will spend all their time either going up or down steep hills. Direct drive motors are more efficient up to about a 3% slope, but only slightly less efficient at 4% or 5% slope. If 7% to 10%+ slopes are rare, direct drive hub motors will work. If only one motor is used, a direct drive may very well be more efficient overall. Only direct drive motors can make no noticeable noise and can provide stealth. With panniers over the wheel covering the hub motor, most people wouldn't know you were on an e-bike or e-trike (but carrying solar panels is sort of a give away).
For touring or for a cargo bike, the two motor option makes more sense. An e-cycle with just a direct drive hub motor could be used when not touring, and a trailer with a geared hub motor (or two) could serve as a pusher trailer when needed to climb long steep grades while touring. Those who can almost tour under human power only may just need an e-trailer. If not carrying a load or going over 15 mph (25 kph), 350W is more than sub-athletes can pedal, and is enough. If carrying a load, as when touring, a trailer with one or two 500W geared hub motors would have all the power needed and could carry the extra battery or batteries that would be needed.
Having two or three motors also creates redundancy. If one fails, the journey goes on. Long distance touring is a"mission critical" endevor and requires appropriate technology. Three motors totaling 1350W would be a better option than installing a single 1500W motor that would only be put to good use when climbing steep hills. A direct drive motor plus two geared hub motors in a pusher e-trailer would be more functional and cost less than an Ecospeed mid-drive system.
For those who aren't up to peddling a basic bicycle up a given hill, into a headwind, or as far as needed, one 250W or 350W motor is enough if the cyclist isn't too obese, too weak, or the hills too steep. More is not necessarily better. But at certain times in some places 1K+ watts may be needed.
---
Links:
Decision path 1
The Limits of Human Power
What is an E-Bike?
A Guide to Low-Power Cycle Tech
Hub Motors and Regenerative Braking
Cycling Health and Safety
Cycling Power and Speed
Decision path 2
On the High Cost of Pioneering
Deciding Who to Do Business With
Decision path 3
What is an E-Bike?
A Guide to Low-Power Cycle Tech
Decision path 4
BionX International Corporation
BionX online dealer (note: you can buy online but DIY install voids warranty)
Independent Assessment

Falco e-Motors Inc.
Falco Electric Bicycle Online Store
Falco Blog
Falco Forum
Independent Assessment


Note to e-bike manufactures and sellers:"A lie told often enough becomes the truth." Most advertising seems to be based on this truism. A corollary is that, "The truth told often enough becomes the truth." The trick is to tell the truth, but tell it often enough. Say what is true, not what your director of marketing thinks sounds good. In the short run you can fool most of the people most of the time. All the money you may make thereby, however, is not evidence you are doing right and well. In the long run reality will intrude. Making a better mouse trap will not mean the world will beat a path to your door. Tell the truth, tell it often enough, and the combination of doing both may work for you, and may be even more profitable in the long run.